Until recently, most recruiters evaluated their job advertising spend almost exclusively on macro-level outcome metrics, like total numbers of applicants. As the recruiting landscape has become more competitive, the challenge now, is that focusing on only the total number of applicants you can pull through the hiring funnel ignores job level data effecting the ROI of your spend.
To dive deeper into job ad performance, Appcast analyzed 33.0 million clicks and 2.5 million applies, from over 750 companies across pay-for-performance recruitment media, to identify spend and returns from job advertising campaigns across the globe.
---
Average Cost-Per-Click Bids
The graph below breaks down cost-per-click (CPC) averages from from 1H 2016, 2H 2016, and FY 2016. We found that the average CPC value was $0.55, but it increased a notable 20% in the second half of the year.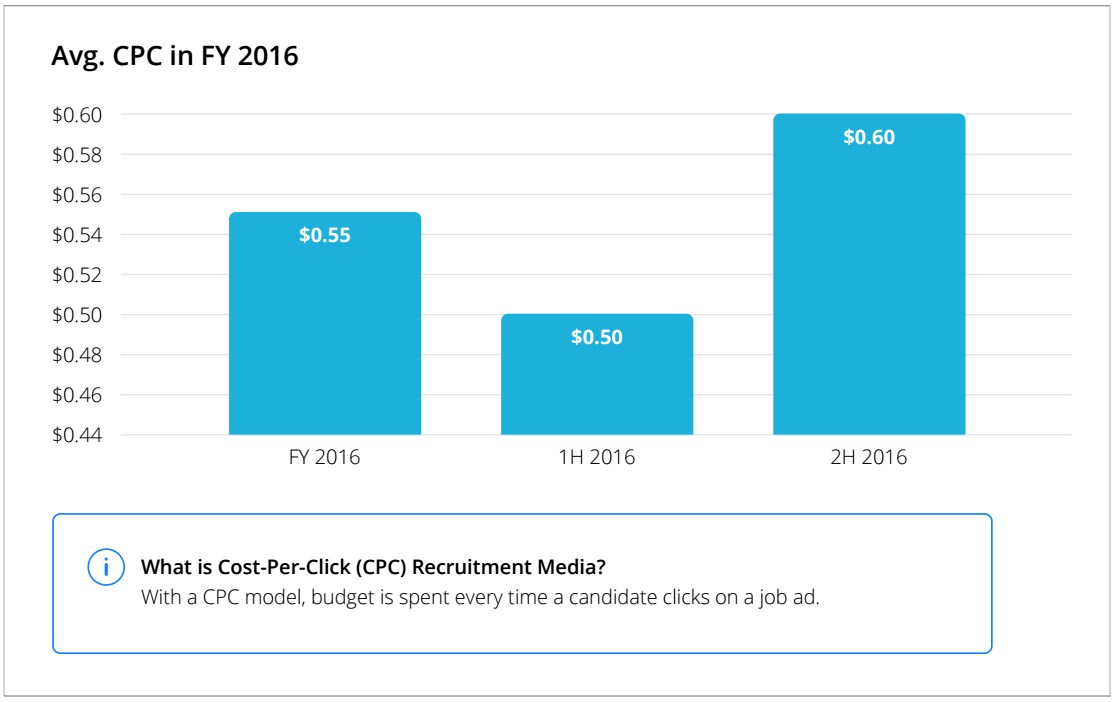 This could be due to: 1) an overall increase of jobs in the market, and/or 2) the need to fulfill budgets at the end of the year.
Download the entire report to baseline your current cost-per-click job ad bids, and learn the average cost-per-click recruitment media bids by the industry.
In the 2017 Recruitment Media Benchmark Report, you will also gain access to:
Aggregate number of clicks by device

Average cost-per-click bids by industry

Average click-to-apply rates by industry