In many companies, customer service reigns supreme in guiding product, process and performance decisions. Alternately, many consumers claim loyalty and public affection for companies that deliver top-notch customer service; it is the currency of growth, longevity and competitive advantage. Consider for a moment... What would happen if you treated job candidates with the same reverence that you treat your customers?
What would that do for your brand as an employer? How would it affect your recruitment strategy? Better yet, how would it convert more top talent into your hiring funnel?

Enter...The Candidate Experience: how job seekers perceive and react to all phases of the recruitment and hiring process from sourcing all the way to onboarding.
Perspectives of when candidate experience begins and ends may vary across organizations, but research shows that the experience is influenced by a multitude of interactions candidates may have with the hiring organization. Some of these interactions occur even before prospective candidates decide to apply for a job. Even more startling - many organizations do not measure or have a strategy for optimizing key facets of their candidate experience (see below).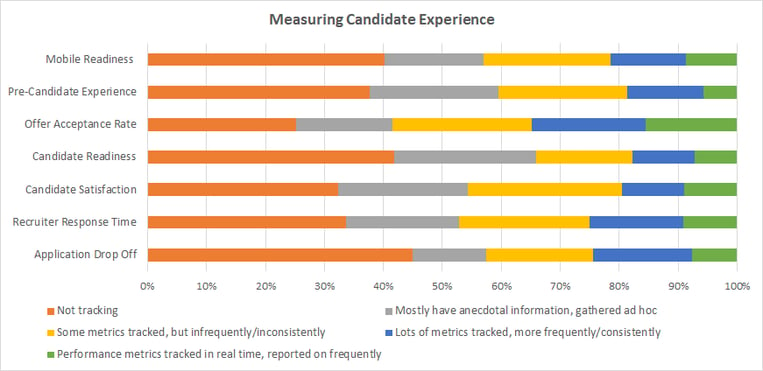 Why is this relevant?
Because nowadays, competition for top talent is fierce. You have shrinking unemployment rates, widening skill gaps, and a list of open req's that never ends. Now, you just can't afford to go fishing in the pool at a given time and pray for the purple squirrel. Organizations need to position themselves as 'the place' that passive (and highly skilled) job seekers are attracted to.
What does this mean for TA & recruitment professionals?
You have one overriding objective: to spend time and money driving the right job seekers into their organization's recruiting funnel and converting them into hires. And, as with all talent acquisition initiatives, the ever-challenging goal is to get the maximum returns given your team's allocated marketing and recruiting budget. Understanding the candidate experience and how you can influence and optimize all phases that are 'pre-hire' will make your job a lot easier and your processes much more efficient (aka. increased ROI).
And if better ROI isn't enough to compel you to act on your 'candidate experience' consider this:

Glassdoor is the Yelp of employer satisfaction. Poor application and interviewing experiences, dissatisfied current employees, one unsavory interaction - are all part of the sum of your employer brand. Appcast's research has shown that a company's Glassdoor rating has a direct relationship with the CTA (click-to-apply rates); the higher the rating, the higher the job ad conversions.
Research from IBM has found that hiring managers and HR professionals regret 40% of their hiring decisions. Those are costly mistakes. Identifying the right candidates, guiding them through your recruiting process, and providing a positive candidate experience are essential to getting the most from your budget. We all strive for world-class service, why not strive for world-class recruitment and hiring too?
---
Interested in learning more about how a great candidate experience can impact your recruitment strategy?
Watch our on-demand webinar, co-hosted with IBM, Best Practices for Attracting Candidates on a Recruiting Budget.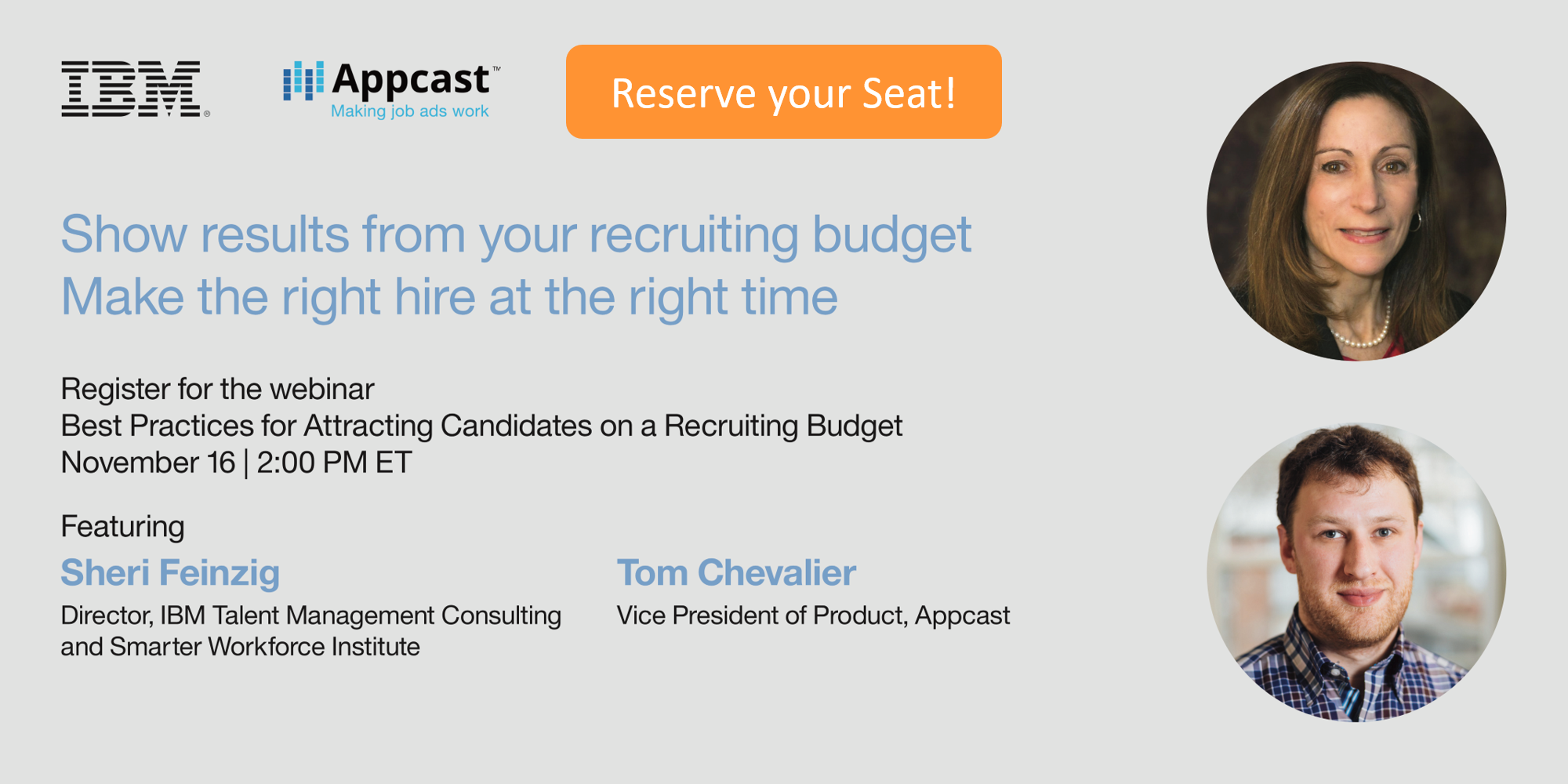 ---
Sources:
How to Measure Candidate Experience Metrics. (2016, June 13). Retrieved November 02, 2017, from http://lhra.io/blog/measure-candidate-experience-metrics/
Quast, L. (2017, June 28). Here's Why You Need To Improve Your Company's Candidate Journey - And How To Make It Better. Retrieved November 02, 2017, from https://www.forbes.com/sites/lisaquast/2017/06/26/your-companys-candidate-journey-sucks-heres-why-and-what-you-can-do-to-improve-it/#3a652df62a23